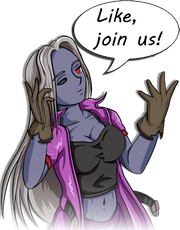 Welcome to the Puppet Nightmares Wiki
Edit
This is a wiki dedicated to chronicling some of the information about the browser game at http://www.puppetnightmares.com
Information
Edit
Puppet Nightmares is a web game made by Ignis in January of 2008. An evil toy maker is luring children into a nightmare filled world, to manipulate their souls and rob them of their innocence. Only you can collect and unlock the powerful Soul Puppets that are needed to stop his madness.
The game is filled to the brim with fantastic art, fun gameplay, original content, and lovable characters. This game changes often so some information and images might be outdated.
Unless otherwise indicated, art segments from the game are probably done by Ignis.
Latest activity
Edit